Speaker
Valeria Cavalli

PhD - Robert E. and Louise F. Dunn Professor of Biomedical Research - Professor of Neuroscience - Department of Neuroscience - Hope Center for Neurological Disorders - Center of Regenerative Medicine - Washington University School of Medicine - USA
Date
30 Sep 2022
Expired!
Time
11 h 30 min - 12 h 30 min
Labels
Neuroscience Seminar Series
Satellite Glial Cells in sensory nervous system health, injury and disease, by Valeria CAVALLI
Summary Satellite Glial Cells in sensory nervous system health, injury and disease
Research in my laboratory focuses on elucidating the principles and mechanisms by which peripheral nervous system neurons regenerate, and to identify therapeutic targets to improve neuronal recovery following axon injury.
To understand why regeneration occurs in the peripheral but not the central nervous system, our lab studies a unique cell type that spans both systems: sensory neurons of the dorsal root ganglia. The cell bodies of sensory neurons are located in the dorsal root ganglion, a structure that sits just outside the spinal cord. These sensory neurons have a unique pseudo-unipolar morphology with a single axon which bifurcates within the ganglion; one axon proceeds along peripheral nerves and the other proceeds centrally along the dorsal root into the spinal cord. Importantly, the peripheral axon has a much greater regenerative capacity than the central axon. Using this system, we have discovered epigenetic, transcriptional and translational pathways employed by peripheral neurons to increase their growth capacity.
While we continue to study the signaling pathways elicited in sensory neurons, we recently turned our attention to the possibility that other cells residing in dorsal root ganglia contribute to the nerve repair process. We focused on the glial cells that envelop the sensory neuron soma, known as satellite glial cells (SGC). Our discovery that SGC contribute to nerve repair significantly shifts the research landscape surrounding peripheral nerve injury to include consideration of sensory neuron microenvironment in nerve injury. Specifically, we discovered that PPAR-γ activity downstream of fatty acid synthase (Fasn) in SGC represents a novel mechanism mediating axon regeneration in adult peripheral nerves. This response fails after spinal cord injury and may contribute to the poor pro-regenerative response of sensory neurons after central nervous system injury. Notably, we found that treatment with the FDA-approved PPARα agonist fenofibrate increased axon regeneration after dorsal root injury. Importantly, we also found that that key features of SGC in rodent model, including lipid metabolism and similarities between SGC and astrocytes are conserved in human SGC. We also found that other cell types, including macrophages, endothelial cells, and mesenchymal cells respond differently to peripheral vs central injuries. Our studies point to the importance of better understanding the contribution of other DRG resident cells in nerve injury responses, which may pave the way for improved efficiency in translating discovery into new treatments of nerve injury.
Short Biography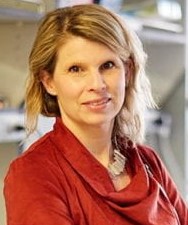 Valeria CAVALLI is the Robert E. and Louise F. Dunn Professor of Biomedical Research and Professor of Neuroscience at Washington University School of Medicine in St louis. She is also member of the Washington University Pain Center, the Center of Regenerative medicine and the Hope Center for Neurological Disorders at Washington University. Dr. Cavalli's laboratory aims to unravel the molecular and cellular events responsible for repairing damaged axons and identify therapeutic targets to improve neuronal recovery following nervous system injury.
Dr. Cavalli earned her doctoral degrees from the University of Geneva, Switzerland in 2000. During her graduate work in the lab of Dr. Gruenberg at the University of Geneva, Dr. Cavalli studied the signaling mechanisms regulating membrane trafficking in cells. She continued with postdoctoral training at the University of California, San Diego, in the lab of Dr. Goldstein where she studied how information about injury is conveyed from the distant lesion site in the axon back to the soma. She received a post-doctoral fellowship from the Christopher and Dana Reeve Foundation to continue her studies on injury signaling. This fellowship was influential in how Dr. Cavalli pursued her particular field: she was seized by the motivation to solve the puzzle of nerve injury and repair. She joined the Washington University faculty in 2006 as an Assistant Professor and was promoted to Associate Professor in 2014, and Professor of Neuroscience in 2019.
Since establishing her own lab, Dr. Cavalli has applied her background in biochemistry and cellular neurobiology to understand how peripheral sensory neurons activate a pro-regenerative program. Sensory neurons are essential to convert external stimuli, such as touch, body position and sound from the organism's environment to the brain. Her discovery that epigenetic changes elicited in injured neurons promote axon regeneration opened a new avenue of investigation. She recently discovered that satellite glial cells which form a sheath that completely surround sensory neurons play an active role in nerve repair. Recently, in collaboration with Dr. Gereau, Dr. Cavalli has also used human DRG to determine if findings in the mouse model system are relevant to the physiology of human neurons and their surrounding satellite glial cells.
Team's web site
WARNING CHANGED LOCATION : This seminar will in Salle des thèses – Jacob Building – 5th floor