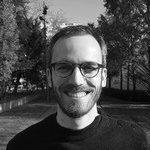 Integrative Neuroscience and Cognition Center - CNRS UMR 8002
CNRS, Université de Paris
45 Rue des Saints Pères
75270 Paris Cedex 06
France
Fax : +33 (0) 1 42 86 XX XX
Recent Publications
Articles
Bernard-Espina J, Dal Canto D, Beraneck M, McIntyre J, Tagliabue M.

How Tilting the Head Interferes With Eye-Hand Coordination: The Role of Gravity in Visuo-Proprioceptive, Cross-Modal Sensory Transformations.

Front Integr Neurosci

,

2022

,

16

, pp.

788905

.
Bernard-Espina J, Beraneck M, Maier MA, Tagliabue M.

Multisensory Integration in Stroke Patients: A Theoretical Approach to Reinterpret Upper-Limb Proprioceptive Deficits and Visual Compensation.

Front Neurosci

,

2021

,

15

, pp.

646698

.