Speaker
Claude Meunier

INCC-UMR 8002 CNRS/Université de Paris, Paris, Cerebral Dynamics Plasticity, Learning Group
Date
01 Mar 2021
Expired!
Time
11 h 00 min - 12 h 00 min
Labels
INCC Seminar Series
The strange developmental trajectory of embryonic Renshaw cells, by Claude Meunier
Abstract: The strange developmental trajectory of embryonic Renshaw cells

It is classically admitted that neurons are barely excitable when they reach their final location in the CNS, become later capable of firing tonically action potentials and eventually acquire their mature discharge pattern when they enrich their repertoire of membrane conductances. Combining electrophysiological experiments and theoretical analysis, we show that embryonic Renshaw cells do not follow this pattern of development. They are already excitable when they reach their final position in the spinal cord and participate to spontaneous network activity. They loose then their ability to fire actions potentials that they recover later when locomotor-like activity emerges. This unusual evolution of the firing properties is controlled by a persistent current sodium current and a delayed rectifier potassium current, calcium and calcium-dependent conductances being not expressed at this age. These results show that the classical dogma on the development of embryonic neurons must be reconsidered and that neuronal development is closely linked to the activity pattern and function of the network in which they are embedded.
Short Biography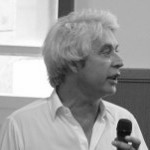 After graduating in Physics from Ecole Normale Supérieure, Claude Meunier obtained a CNRS position at the Center for Theoretical Physics of Ecole Polytechnique, where he worked on Dynamical systems theory. He switched to Neuroscience in the late 1980s and founded an interdisciplinary CNRS laboratory at les Saints-Pères with David Hansel and Daniel Zytnicki in 1999. He created in 2008, together with Kevin O'Regan, the Institute for Neuroscience and Cognition. His research, which has focused on single neuron dynamics, synchrony in neural networks, spinal physiology and more recently the cerebellum, makes a large part to collaborations with electrophysiologists. He is also deeply involved in teaching in the framework of the BioMedical Engineering international master program.
To join the Zoom meeting:
https://u-paris.zoom.us/j/89269405825?pwd=eEh6TmRmQVNFREk1ZllaKzBUSVROZz09
ID  : 892 6940 5825
Code : 381078