Speaker
Louise Kirsch

Perception, Action and Cognition Group, INCC, Paris, France
Date
13 Dec 2021
Expired!
Time
11 h 00 min - 12 h 00 min
Labels
INCC Seminar Series
From the self to the other – different levels of self-other boundaries, by Louise Kirsch
Summary From the self to the other – different levels of self-other boundaries
The ability to correctly identify where the self starts and where it ends is fundamental to appropriately interact with other individuals in a multisensory world. This ability relies on different key mechanisms ranging from physical body representation, spatial representation, as well as affective representation. Fundamental research has shown that self-boundaries (i.e. the boundaries between self and non-self) are plastic, as they can change as a function of our experience. In this talk, I will mainly focus on the impact of tactile experience. Indeed, the importance of touch is often neglected, but it is essential to development and social interactions.  I will bring together results from behavioural experiments in healthy human and neurological patients, showing how sensory/tactile experiences can shape self-other physical, spatial and emotional boundaries. This research has far reaching applications in the clinical domain, as a better understanding of what influences perception of the self and others might help several clinical populations (e.g. stroke patients, amputees, and patients with psychopathologies of the self, such as autism and schizophrenia), but should also resonate for research on non-human species.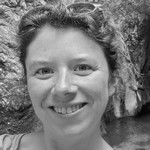 Short Biography After completing the Cogmaster in 2011, Louise completed her PhD in cognitive neuroscience at Bangor University in Wales under the supervision of Emily Cross, investigating how action experience influences action perception and how aesthetic evaluation of movement is impacted by experience. She then did a first postdoctorate with Katerina Fotopoulou at University College London, and a second one at the Institute of Inteligent Systems and Robotics (ISIR) with Malika Auvray and Vincent Hayward at Sorbonne Université. She has just been recruited as Maître de Conférence to teach Cognitive Sciences at UP. Her main research interests lie at the boundaries between multisensory perception, social cognition and affective neuroscience, testing both healthy and pathological human participants, using behavioural, physiological and imagery techniques. More recently, she has a particular interest in studying affective touch as a sensory modality to communicate emotions but also shaping the bodily self.
Health pass and mask are required to attend
or
Follow by streaming on:
https://direct.u-paris.fr/lives
Onglet « Saint Germain », then « Salle de conférence ».